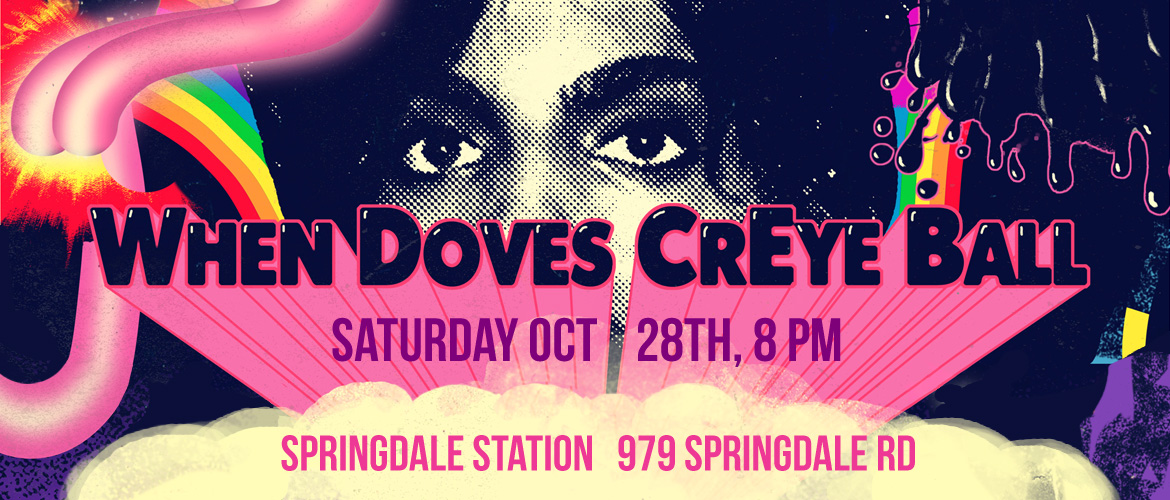 It's a Sign 'O' Times
that the elevator has tried to bring us down…
but if you want to party like it's 1999
then, dearly beloved, gett off the internet
and let's gather
to get through this thing called life
and Go Crazy
at Rude Mechs'
When Doves CrEye Ball!
THIS IS WHAT IT SOUNDS LIKE
Lay down your funky weapon and join Graham Reynolds DJ on the dance floor along with Glam Slammin' pop up performances from your favorite Rudes and the Austin performance community. We have a cash bar from The Side Bar, serving anything you want, but what you need is our evening's signature drink: the Purple Reign. Baby, you don't have to be rich to be our girl or to enjoy the treasures in our Silent Auction, but if you still ain't been getting served, you can fix that and feast at our Paisley Park Buffet. You've got the look so hit up the Face Jammin Booth, and find your fortune from the beautiful ones at Typewriter Tarot.
If you don't like the world you're living in, we're here to tell you there's something else. Join us, and help Rude Mechs crush Austin this season.
Let's get to rammin'
All proceeds benefit Rude Mechs and everything that goes on in Rude Studios. Click here if you want to know more about our 21st Season: Crush Austin.
WHEN  WHERE  WHAT  HOW MUCH

When: Saturday, October 28, 8:00 pm – midnight
Where: Springdale Station @ 979 Springdale Rd
Dress: Purple, Diamonds and Pearls, Pink Cashmere, and Raspberry Berets (if it's warm, no need to wear much more). Costumes respected, but not required.
Tickets:
$50 entry for one at 8:00 p.m.
$75 entry for one at 7:30 p.m. for a special cocktail, hors d'oeuvres, and a surprise
Note: There is a $2/ticket credit card processing fee for tickets bought online. If you would like to avoid the fee, you can email us at staff "at" rudemechs.com, and we can do the transaction with you over the phone, or you can do it ye olde-fashioned way by mailing us a check with your reservation request by October 21st.

GET YOUR TICKETS HERE
Problems with this widget?
Click here to checkout at Artful.ly
.
Event Co-Chairs
Alexandra Bassett, Aaron Flynn, Sarah Stacey
Event Host Committee
Mike Martinez
Mike Lavigne
Bobby Johns
Bobby Garza
Dani Thomas
Lisa Moore
Isadora McKeon
Nicole Blair
Catlin Whitington
Adrian & Celeste Quesada
THE KING AND EYE BALL 2016