Featuring Kirk Lynn & Madge Darlington + artists and scientists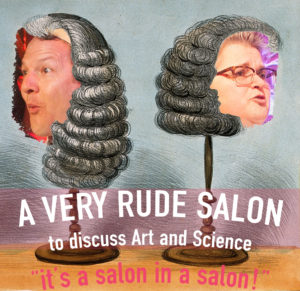 We're putting on a Salon… in a salon. It's FREE!
Join us for drinks, light fare, and illuminating conversation! We have so many brilliant academics in our community and we always want to make them use their heads for art. This year, the Rude Salon theme is inspired by our discussions with NESCent scientists at Duke University while we were creating our play Now Now Oh Now. Join Co-Producing Artistic Directors Kirk Lynn and Madge Darlington, choreographer Alexa Capareda, geneticist Jennifer Moon, cell biologists Arturo De Lozanne and Terry O'Halloran, and science and fiction writer Kyle Davis, for a frank discussion about the experimental and creative process, failure and epiphany, and whatever else we come up with! Hosted by Khristian Méndez Aguirre & Alexandra Bassiakou Shaw.
We're so grateful to Angela Robertson, Director of the AVEDA Institute Austin, and everyone at the institute for letting us host this event at their beautiful facility. If you're lucky you might get sweet freebies from Aveda so reserve your spot today! Maybe we can get our hair cut right onsite during the Salon! It's a salon in a salon, after all.