WILD PLACES

presented by groundswell theatre
co-produced by Rude Mechs as part of our Rude Fusion series
March 3 – 18, 2017 at The Off Shoot.
About the Show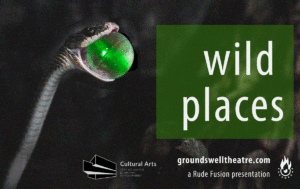 Six immersive experiments about drugs, healers, and the unknown. Each performance invites the audience to take part in an interactive aspect of this play-in-development.
Wild Places, written by Austin playwright Joanna Garner, explores the ways we as Americans attempt to heal and control our minds and bodies.
The performances feature actors Ellie McBride, Gabriela Pedraza, Zoey Cane Belyea, Sean Moran, Ryan Sterling Smith, and Chris Humphrey, guided by rotating lead collaborators.
March 3 & 4: Led by director Michael Rau with Seattle filmmaker Nik Perleros
March 10 & 11: Led by writer/choreographer Patrick Shaw
March 17 & 18: Led by director Katie Van Winkle
There might be trampolines, psychedelics, blood, snakes, or bouncy balls. Very limited seating available— reservations highly encouraged.
This project is supported in part by the Cultural Arts Division of the City of Austin Economic Development Department.
About groundswell theatre
groundswell creates new, homegrown theatre. Supporting theatre-makers in and of Austin, Texas, we believe that live performance is vital to the evolving cultural conversation of our city and our country. We believe in gathering the forces around us in order to reflect and interrogate the world in which we work. We cultivate agility in our production and administrative processes, and create systems to specifically support each project we undertake.​ Artists who make work with groundswell believe in dramaturgical curiosity, close and rigorous collaboration, and that seeing a play should be a damn good time.
About Rude Fusion
Rude Fusion is a program designed to develop deeper relationships with some of Austin's finest theatre artists by offering material, financial and creative support for their new works, and by helping bring nationally acclaimed artists to town. Rude Fusion aims to help artists to take artistic risks, explore new ideas and keep their focus on artist pay and production values.
Rude Mechs is supported in part by the Cultural Arts Division of the City of Austin Economic Development Department, and by a grant from the Texas Commission on the Arts.
Support Rude Mechs