November 15 at 7:30 p.m.
created by Jennifer Kidwell and Thomas Graves
a Rude Mechs work-in-progress production
crushAustin – District 7
Rude Mechs is supported in part by the Cultural Arts Division of the City of Austin Economic Development Department, and by a grant from The Texas Commission on the Arts.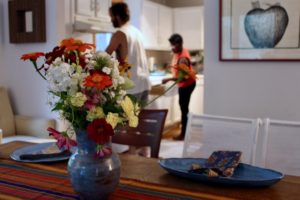 Philly-based artist Jennifer Kidwell and Thomas Graves have been creating a show together. They are ready to share some of it with you. And they want to share some food with you. And that is what the show is. Sharing food. Let us sit around the table together and eat this work-in-progress.
when: November 10, November 13, and November 15 at 7:30pm.
where: 2008 Justin Lane 78757
Register below: Advance reservation required. No walk-up tickets will be sold. Seating is super limited as each performance is a dinner for 10.
If you have any kind of trouble with the form below, go to this page to make your reservation.