hosted by Lisa Moore and Desiree Morales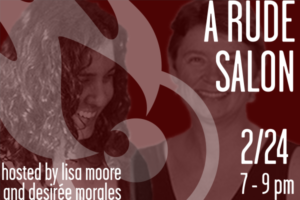 We're putting on a Salon. It's FREE, join us!
To celebrate our 20th anniversary, we've assembled an all-star line-up of Rude academics for an evening of rollicking yet rigorous conversation over food and drink. Performance studies, queer theory, feminism, whiteness, experimental art, running a collective, community building, big feelings, and more: this will be a not-to-be-missed meeting of the minds!
As much as Rude Mechs has been influenced by Austin's music scene, we've always had strong ties to the academic world too, especially at The University of Texas at Austin. From 1990s rehearsals in the ROTC building and Parlin Hall, to dissertations being written on the Rudes today, from our own undergraduate years, to our recent tenure as Resident Theatre Company to the Department of Theater and Dance, the Rudes have benefitted from smart professor audiences and supporters. One of the Artistic Directors is even a professor himself now.